A man and his camera
Charlie Owen
Vail CO, Colorado

Matt Inden knows what it's like to wait for the perfect shot.
The Eagle-Vail resident often hikes out to his destination before sunrise or sunset; sometimes the hike takes an hour, sometimes four days. The military-style pack he carries on his back is full of supplies " freeze-dried food, water bottles, cooking pans and extra clothing. The pack is heavy and large, probably half the size of the man carrying it. Weighing it down the most is Inden's entire reason for the hike " his camera.
"It's kind of old," Inden said of his equipment.
---
---
Inden doesn't know exactly how old, since he bought it second-hand, but it looks ancient. The view camera is a Deardorff, which hasn't been produced since the mid-'80s, but Inden's is probably closer to 50 years old. Picture an old western movie where the photographer sets up a big wooden box with a lens on a tripod, covers himself with a leather hood and snaps the shot using a wire extension that connects to the lens. The viewing lens is an 8×10-inch plastic square that shows the image in the frame upside down because there's no mirror in the camera. It requires a special kind of film that is expensive, but luckily still manufactured " for now. The selection of 8×10 film seems to be limited each year, Inden said.
Unlike digital photography, the number of photos Inden can take are severely limited by his equipment. At most Inden will take two to four photos while out and nearly half the time, he won't take a single shot. It's about as old-school as it gets in today's photography world.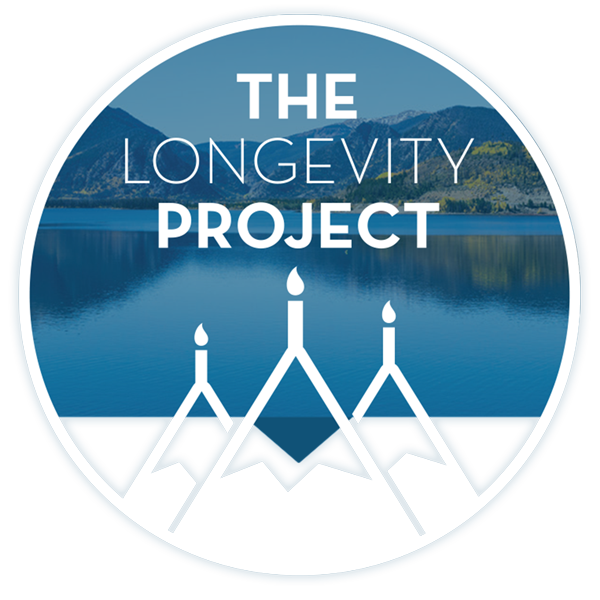 Participate in The Longevity Project
The Longevity Project is an annual campaign to help educate readers about what it takes to live a long, fulfilling life in our valley. This year Kevin shares his story of hope and celebration of life with his presentation Cracked, Not Broken as we explore the critical and relevant topic of mental health.
---
---
"It's kind of a dying medium and slowly becoming obsolete," Inden said. "That's one of the reasons why I'm doing it."
The other reason is Inden believes the images it captures are more pure and textural than digital or other modern camera types.
"This you kind of have to set up. You have to pick one spot and you're pretty much committed to that one spot. So if you get a nice photo, it's great, but it doesn't give you a ton of options while you're up there, either," Inden said.
---
---
On the floor of Inden's home is a 30×40-inch glossy print of a sunset over the Sawatch Mountain Range. The photo was taken from the top of Shrine Pass and it looks like you could step right into it. The colors are bright and crystal clear; look long enough and the grass in the foreground appears to move in the wind.
This past weekend Inden hiked up to Holy Cross trying to capture yet another snapshot of local scenery. But why go through all that trouble knowing there's a possibility that conditions may not present the opportunity to get even one photograph?
The answer is simple, Inden said.
"It's big and awkward and it is a challenge … that's something that I like and hate."
Inden is no stranger to modern cameras either. The 34-year-old went to the Art Institute of Colorado for photojournalism then interned and freelanced at the Rocky Mountain News, winning a Pulitzer Prize with the photo staff in 2003 for Breaking News Photography. He recently finished a stint as a photographer with the Colorado Tourism Office.
Inden felt himself being pulled away from photojournalism towards nature photography and decided to follow that desire, even if the equipment he uses may soon be obsolete.
"Matt Inden's work represents a higher standard than the landscape photography we generally see in Colorado," said Dave Neligh, Inden's former portfolio professor at AIC. "The timing of when he shot it shows a tremendous amount of thought, care and patience. It's compositionally very tight, to the point of his work being both symbolic and iconic."
Even back when Inden was a student, Neligh said he saw great potential in his pupil and is not the least bit surprised that Inden's latest work is so good.
"For a photographer of this quality image, Matt is very young and shows a tremendous potential for growing and evolving in his work, given his knowledge of Colorado and the West."
It's a lot of work, especially the way that Inden goes about it, hiking and camping and waiting for the perfect moment when the light and weather conditions are in complete balance before snapping the shot.
"As a photojournalist you have this internal battle in that you want to get the photograph that tells the best story, that has the most impact. I guess that holds true for me as a nature photographer as well. You hate to leave the scene until you get that photo."
Once Inden hiked to the same spot on Vail Mountain, near Ptarmigan Ridge, for a month straight. He never got the photo.
"That was a bummer, but you obviously go on," he said.
Inden's work has been displayed at La Gardenia art gallery in Denver and he's been selecting his best work for a portfolio, something he said is very hard to do given the amount of personal investment that goes into each image.
"It's one of those things where I love going out and being there in nature and finding cool spots at great times of day," Inden said. "I always thought I'd be a nature photographer."
For more information, e-mail indenmatt@hotmail.com.
High Life writer Charlie Owen can be reached at 970-748-2939 or cowen@vaildaily.com.
---
Support Local Journalism
---